Scholarship Information
SCHOLARSHIPS AND AWARDS
One-stop-shop for students and parents seeking information about scholarships, post-secondary recruitment information, student aid, career planning, etc. 
https://www.lethsd.ab.ca/departments/counselling-services/career-explorations
 

Career Services Page | Lethbridge School Division

Welcome to the Career Services Page. It is our hope that this webpage will provide you with information about career planning and bring you an awareness about post-secondary options that are available (work, apprenticeship, college and university).. Through this website you can access tools that will help you make a more informed decisions about life after high school.

Alexander Rutherford Scholarship
The Alexander Rutherford Scholarship is a scholarship created for graduating Alberta students. The link below includes information on how to apply, who is eligible, and all the pre-requisites. Students are evaluated on academic performance in grades 10-12. The Alexander Rutherford Scholarship has a maximum value of $2500.00To apply, please visit Alexander Rutherford Scholarship
Re/Max of Western Canada Quest for Excellence
Re/Max of Western Canada Quest for Excellence has 16 - $1000.00 scholarships available to help graduating students attending high school from September 2019 - June 2020. Deadline is March 11th 2019. To apply, please visit Remax 2020 Bursary
University of Alberta Entrance Awards
These awards are for high school students entering University of Alberta with fewer than 12 credits of university course work taken during high school or following time taken off between high school and university, provided that no post-secondary credit was received during that time. Some of this awards are admission based while others are application based. For application information and deadlines, please visit University of Alberta Entrance Awards
For a list of other Canadian scholarships, please check ALBERTA HIGH SCHOOL SCHOLARSHIP
Also Please take a look at more scholarships in Canada: Scholarship Canada
Information from the Scholarship Tree
Here are a couple of significant scholarships that are available now:
And blogs of how students have won these scholarships in the past:
Electronic Recycling Association
Kids Video Competition (Go to Page)
ERA host their first Video Competition that will launch this Fall. We are asking students in Middle Schools and High Schools across Canada to use their creative minds. This competition is designed to not only educate students on the importance of sustainability but to bring their vision of an ever-changing environment to video.

2.ERA's Scholarship (Go to Page)
The Electronic Recycling Association is proud to announce that we will be holding our first-ever Scholarship competition. We are looking for bright, young students with an interest in the environment to host a collection event at their location. Students will gain experience in event planning and hosting. The top 10 winners will receive prizes of up to $10,000.
CAREER SERVICES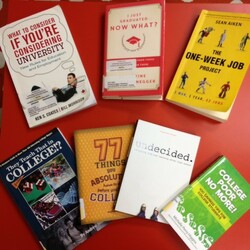 At the Career office, you can:
• Discuss career interest, apply and contact post secondary institutions
• Identify print/online resources for career and educational research
• Apply for scholarship and loan funding
• Prepare resumes, cover letters and develop job search skills
• Learn about off campus work experience for high school credit
• Get information about career events in the community like World of Choices etc.
RESOURCES
Alberta Post-secondary institutions : A list of designated universities and colleges in Alberta
Alberta Apprenticeship trades : This website provides information on Alberta designated trades and occupation as well as high school apprenticeship scholarships and federal grants
Alberta Student Exchange Programs : Applications are accepted the first week of November every school year. Great opportunity for Grade 10 and 11 students to learn other cultures and language as well as building international network
Alberta Student Aid : Use this web page to apply for loans and grants
ALIS (Alberta Learning Information Service) : A great Alberta site full of career assessments and profiles to help you learn more about future opportunities!
Canadian scholarships : This website features a variety of scholarships and awards and different requirements
Encounters with Canada : A great opportunity to be with Canadian youth for one week in Ottawa. Program costs including return airfare range from $575.00 -$750.00 depending on available subsidies
United World Colleges : This is a fabulous opportunity to continue your secondary education internationally for one year!
U.S. Universities : A list of all US universities in the US and applicable scholarships