Learn to Run
Learn to Become a 5km Runner!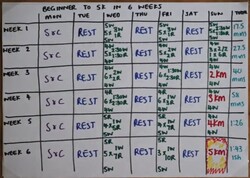 My First 5km Run (Training Plan)
Hello Students,
If you are interested in learning to run, here is a plan that can help you take the first step!
This is a 5km training plan that, if followed, will get you up to speed in about 6 weeks.
Remember that rest days are really important, especially if you're a first time runner.
Included here is a snapshot of the original training plan (from the video), and a customized and easier to read version for Churchill.
Check back to this page often as we will attempt to add more content in the coming weeks.